---
One Click Group Limited (ASX:1CG) non-renounceable entitlement offer
One Click Group Limited (ASX: 1CG) (the Company) is pleased to announce that it is undertaking a pro rata non-renounceable entitlement offer (Offer or Entitlement Offer) of one (1) fully paid ordinary share in the capital of the Company (Share) for every six (6) Shares held by eligible shareholders on 19 October 2023 (Record Date).
Shares will be issued at a price of $0.015 per Share to raise up to approximately $1,716,782 (before costs).
Participants will also receive one (1) free attaching option for every two (2) Shares subscribed for and issued exercisable at $0.03 on or before that date which is three (3) years from the date of issue.
The Offer is partially underwritten by Canaccord Genuity (Australia) Limited (ACN 075 071 466) (AFSL 234666) (Underwriter) to the extent of $1,000,000.
Participants can also take up additional shares (shortfall) in the offer. All requests to take up shortfall will be reviewed and granted at the discretion of the Board of Directors of the Company in consultation with the Underwriter.
How do you participate?
To participate please view the Prospectus and complete your entitlement and acceptance form on the Computershare website on the link below:
https://1cgoffer.computersharecas.com.au/
You can apply for your entitlement and apply for any additional Shares (shortfall).
Payment details are included on your online entitlement and acceptance form.
So, what does this mean in an example?
If you have 600,000 Shares in One Click Group Limtied (ASX:1CG):
Your entitlement is to purchase 100,000 Shares under the Offer at 1.5c per Share, which will mean investing an additional $1,500.
You will also receive 50,000 options that can be exercised into Shares at a cost of 3c a Share over the next 3 years.
If you take up your full entitlement, you also have the ability to request to subscribe for additional Shares for 1.5c per Share under the Shortfall Offer. For example you may wish to apply to purchase another 200,000 Shares, which would cost a further $3,000 and come with an additional 100,000 options to purchase more Shares in the future. Note, however, that there is no guarantee that you will receive securities applied for under the Shortfall Offer. Where you do not receive securities applied for under the Shortfall Offer, your application funds will be refunded.
About the business
One Click Group runs two fintech platforms:
A consumer fintech platform allowing customers to manage their financial lives from their mobile phone in a simple, low cost environment.
A digital identity verification platform and AML program for financial services businesses ensuring consumers identity is protected and providing business a safe means of commerce.
The Entitlement Offer follows the Company's recently announced highlights, including
Continued outstanding business growth in the 2023 financial year (calendar year) with revenue reaching $3.5 million (unaudited) in September 2023 (up 120% already on CY2022 of $1.6m) on its fast-growing fintech platforms;
Registered user numbers on the One Click Life platform continuing to grow rapidly, having now surpassed 115,000; and
One Click Life's Average Revenue Per User (ARPU) increasing to $32 (unaudited) growing from CY2022 $25.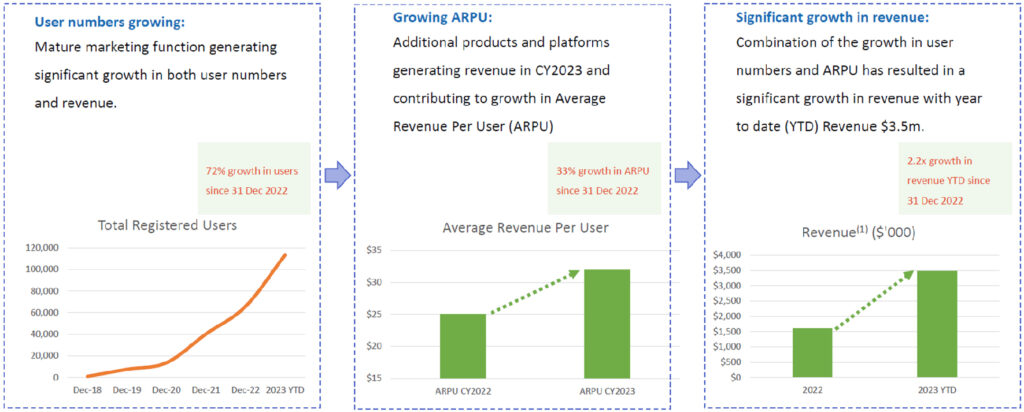 The One Click Verify platform relies on a transaction pricing model to generate revenue. The Company is working on growing the number of customers using the platform and last quarter signed up four new customers.
How will the funds be used?
The Company intends to use the funds raised under the Offer to continue to rapidly grow the business through an increase in users and aim to increase Average Revenue Per User (ARPU) through bringing new financial services to market on the One Click Life platform.
The Company has seen success in growing users on the One Click Life platform with over 50,000 new users registering on the platform this calendar year to date. To aim to continue to grow at this rate and accelerate growth into next year, part of the funding will be deployed into new marketing activities not undertaken this year.
The Company has been able to achieve a more than 30% growth in ARPU in 2023, with this key metric growing from $25 per user to now over $32 per user. This has been largely achieved by bringing new products to market such as Next Day Refunds and One Click Mortgages. The Company intends to deploy funds from the capital raise to continue to increase the number of financial services products it offers its users, with a view to continuing to increase the ARPU in 2024.
The Company proposes to use the proceeds of the Entitlement Offer as follows (assuming full take up of the offer):
| | | | |
| --- | --- | --- | --- |
| Item | Proceeds of the Entitlement Offer | Full Subscription ($)1 | % |
| | Product development | 430,000 | 25.05 |
| | Marketing | 700,000 | 40.77 |
| | Corporate/administration2 | 80,000 | 4.66 |
| | Working Capital | 319,189 | 18.59 |
| | Expenses of the Entitlement Offer | 187,593 | 10.93 |
| | Total | 1,716,782 | 100 |
Notes:
Assuming the full subscription of $1,716,782 (Full Subscription) is achieved under the Entitlement Offer. Where less than the Full Subscription is raised, spend on marketing, product development, expenses of the offer and working capital will be reduced accordingly.
Administration costs include the general costs associated with the management and operation of the Company's business including administration expenses, management salaries, directors' fees and salaries, rent and other associated costs.
The above expenditure budget is indicative only and may change according to circumstances prevailing at the time.
One Click Group's capital structure
Based on Full Subscription of the Offer, the Company's share capital structure will be as set out below.
| | Shares on Issue | Share Price | Market Cap | Cash |
| --- | --- | --- | --- | --- |
| Current shares on issue | 686m* | $0.017* | ~$11.6m* | $1.5m*** |
| Rights issue shares | 114m | $0.015 | | ~$1.7m |
| Total post rights issue | 801m | | ~$13.6m** | $3.2m |
*As at 10 October 2023
** Based on the closing Share price on 10 October 2023, being $0.017.
*** Cash on hand as at 30 June 2023 (last audited period)
What is an option?
An option is an entitlement to purchase a share at a predetermined price for a specific term. For this Offer you receive an option to purchase Shares for three years at 3c per Share. You can exercise your option to purchase Shares at any time until expiry. For example if you had 50,000 options to purchase Shares at 3c and the Share price was trading at 5c, you could buy 50,000 Shares at 3c per Share (at a cost of $1,500) and the Shares would have a value of $2,500.